What are people saying about us..
Its the best, clean label protein bar I've found. The new packaging is much easier to open (THANK YOU) and the bar is my go to protein/breakfast! AWESOME BAR! 

Aaron - Amazon Review 01/2020
The Bia bar is delicious! My favorite is the peanut butter fudge but they are all tasty! This bar is high in protein, flavorful, and gluten free! Very filling and satisfying!

Amazon Review 07/2019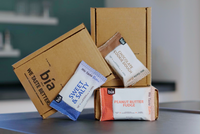 Variety Flavor Boxes
If you're new here and can't decide which flavor is your favorite. We offer variety boxes so you can change flavors, as often as your tastebuds do. 
Purchase The Mixed Bar Box